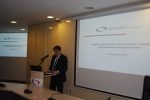 Skopje, 30.12.2016 – Yesterday, the Agency for Audio and Audiovisual Media Services held its Fourth Public Meeting in 2016. At the beginning, the Director of the Agency, Mr. Zoran Trajchevski, Ph.D., presented the activities that the Agency had carried out during the past trimester,in line with its Annual Work Programme. The Agency's focus in the past three months had been particularly on the monitoring of the media coverage of the elections. The Agency's professional services had been preparing reports on each of the 10-day periods, concerning the media's observance of the provisions of the Electoral Code stipulating fair, balanced and unbiased reporting throughout their entire programmes and the ban on using the reports on the regular activities of the government authorities as electoral media presentation of a certain political entity. They had also been preparing reports on the detected violations of the Electoral Code, immediately after having established the said violations. As regards the infringements committed, the Agency initiated misdemeanour procedures within 48 hours from receiving the proposals by the Ad Hoc Committee for Observing Media Coverage. In addition to the monitoring of the media coverage of the elections, the Agency also conducted programme, administrative and expert supervisions in accordance with the Law on Audio and Audiovisual Media Services and the Media Law. Measures were imposed against the violationsdetected.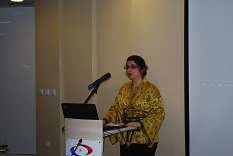 In the past period, the Agency prepared a study to establish the justifiability of publishing a public competition for granting a radio broadcasting license at the local level for the area of Krivogashtani municipality, as well as several analyses and pieces of research, concerning the employee structure in the audio and audiovisual media industry in 2015, the television and the persons with sensory impairments in terms of the offers and the needs, and the gender analysis in the television programmes in 2016 (in line with the Law on Equal Opportunities for Women and Men). The results of the analysis of the news and advertisements during 2016 was presented by Ms. Marina Trajkova, who had participated in the preparation of this analysis. She also spoke about the gender representation in the media and their significance.
As regards the ways of raising the awareness about media literacy in the Republic of Macedonia and the contribution to understanding media literacy on the part of all citizens, regardless of their age, Ms. Emilija Petreska-Kamenjarova, Head of the Human Rights and Media Literacy Department, first presented the Macedonian version of the new video spotas part of the cycle of spots by the international organization EAVI dedicated to media literacy, followed by part of the research into the level of media literacy among the adult population in the Republic of Macedonia. The final report on this research will be presented at a special event early next year.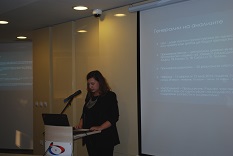 Completed during this trimester was the research titled "Television and the Persons with Sensory Impairments – Offer and Needs", envisaged by the three-year Programme for Ensuring Accessibility to the Media for the Persons with Sensory Impairments, adopted in 2015. The results of this research were presented by Mr. Sasho Bogdanovski, Senior Associate in the Human Rights and Media Literacy Department. A Questionnaire had been prepared for the purposes of this research, on the quantity and quality of the offer of television programmes intended for the persons with sensory disabilities, and the samehadbeen sent to all TV services. In addition, interviews had been conducted with the representatives of the organizations that represent people with vision and hearing loss, as well as other relevant organizations. The findings obtained through the Questionnaire and the interviews were presented along with the other results of the research.
The presentations of the Fourth Public Meeting are available at the following links:
Mr. Zoran Trajchevski, PhD
ACTIVITIES CONDUCTED IN LINE WITH THE AAAVMS' ANNUAL WORK PROGRAMME
Ms. Marina Trajkova
GENDER IN THE MEDIA
Mr. Sasho Bogdanovski, M.A.
ACCESS TO BROADCASTERS' PROGRAMMES INTENDED FOR PERSONS WITH VISION AND HEARING LOSS – NEEDS AND OFFER
Ms. Emilija Petreska-Kamenjarova, M.A.
MEDIA LITERACY LEVEL AMONG THE ADULT POPULATION IN RM