11.04.2011 BC organizes a press conference on the rules for the media coverage of the early parliamentary elections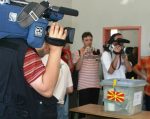 SKOPJE, 11.04.2011 – The last amendments of the Election Code, the by-laws for media coverage of the pre-election activities and the obligations of the BC and the broadcasters in the coverage of the election process will be the main topic of the press conference of the Broadcasting Council.
The press conference is scheduled for 13th of April 2011 12:00 and will take place in the conference room of BC. All media outlets are invited to cover this event.