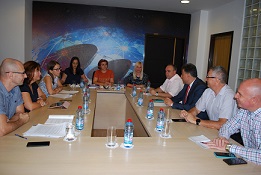 Skopje, 3 September 2019 – The Agency for Audio and Audiovisual Media Services and the Agency for Communication Networks and Services of the Republic of Slovenia (AKOS) held a bilateral meeting, at which they discussed the competences of both regulators and their actions directed at preventing illegal media concentration specifically.
Experiences were also exchanged regarding the legal provisions regulating hate speech, the manner of establishing the presence of this phenomenon and its sanctioning, as well on media literacy and the activities undertaken to promote it, and regarding the legislation regulating compulsory transmission of programme services (must carry).
The AAAVMS and AKOS assessed that their mutual cooperation was at a high level and that this good practice should continue in the future.
The bilateral meeting coincides with the 22nd anniversary of the Agency's existence.