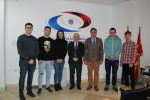 Skopje, 12 December 2019 – The Agency for Audio and Audiovisual Media Services hosted today a group of students from the Department of Media and Journalism at the Faculty of Law Studies and Journalism at Tetovo University.
The students had an opportunity to get acquainted with the competences, the operations and the obligations of the Agency in terms of the implementation of media-related legislation. During the visit, the students were shown the equipment which the Agency uses to monitor media content.
The students showed particular interest in understanding the process of regulating the rights to broadcast sports matches, the regulation of hate speech in the media, as well as the impact of finances on the production of good quality programme content.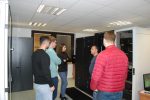 The Agency remains open for cooperation with all universities and schools that are interested in sharing the experiences in the field of media and media-related regulation.