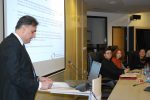 Skopje, 25 December 2019 – The Agency held its last Public Meeting in 2019, today. On this occasion, Agency Director Zoran Trajchevski presented the activities carried out in accordance with the Annual Work Programme for the past quarter. He made a summary of the supervisions conducted over the broadcasters, the operators of public electronic communication networks, the providers of on-demand AVMS and the print media publishers, the public warning measures that had been imposed, the studies, activities in the international sphere and operations within the frameworks of the country's European integration process.
The event focused on the coverage of gender issues by the media. The "Margini" Coalition presented the "Journalists' Guide", which aims to be the key source for the journalists who want to prepare media stories about transgender people in a clear and understandable manner. The publication, which had been prepared by the "Transgender Europe" organization, with the support of the European Union's Rights, Equality and Citizenship Programme, provides practical guidance on how to write about transgender people or issues of their concern.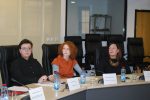 At the meeting, a representative of the Helsinki Committee for Human Rights presented the results of the analysis on the manner the media had reported on the 2019 Skopje Pride event. The general assessment was that the television stations, the print media and most of the relevant internet portals in the country covered "Skopje Pride 2019 in a correct and professional manner. However, it was pointed out that part of the media coverage lacked open condemnation of the hate speech and discrimination on the grounds of one's sexual orientation and gender identity.
At the end of the meeting, a presentation was held on the results of the gender structure of the television and radio stations' ownership at the national, regional and local levels in 2019. The data collected by this analysis, which had been conducted by the Agency, indicate that women are less represented in the ownership structure of the television and radio stations. A total of 68 broadcasters, of which 28 television and 40 radio stations, are completely owned by men, whereas 23 broadcasters, i.e. 3 television stations and 20 radio stations, are completely owned by women. Detailed data on the gender structure of the ownership and the employees in the broadcasting industry will be released in early 2020.
The presentations are available at the following links:
Activities carried out in line with the AAAVMS Annual Work Programme
Zoran Trajchevski, PhD, Director of the AAAVMS
Journalists' Guide: Ethical Reporting on Transgender Persons and the Issues of Their Concern
 Elena Petrovska, "Margini" Coalition
Gender Structure of the Ownership of Television and Radio Stations
Marina Trajkova, Agency for Audio and Audiovisual Media Services