EU Ambassador David Geer Pays Working Visit to AAAVMU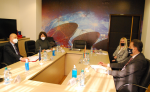 Skopje, 17 February 2021 – Agency Director Zoran Trajchevski had a working meeting with EU Ambassador David Geer. at which they discussed a number of issues related to the competencies of the Agency.
The focus was placed on the ongoing process of amending the Electoral Code, the Agency's activities resulting from the media laws and its capacity to implement them, the planned media reforms, the need to harmonize domestic media legislation with the Directive on European Audio and Audiovisual Media Services.
At the end of the meeting, it was concluded that mutual cooperation was of crucial importance and that this practice should continue in the future.