AAAVMS AND FOOD AND VETERINARY AGENCY SIGN MEMORANDUM OF COOPERATION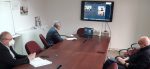 Skopje, 14 April 2021 – The Agency for Audio and Audiovisual Media Services and the Food and Veterinary Agency signed a Memorandum of Cooperation today, regarding advertising, teleshopping, product placement and sponsorship of food and nutritional supplements as part of the radio and television programmes, especially in relation to claims concerning health and nutrition, claims about reduced risks of illness, and food-related frauds.
The purpose of this Memorandum is to protect consumers' health and interests and provide the citizens with an opportunity to make personal and right choices, based on truthful and reliable information. Given the vulnerability of the youngest, special focus shall be placed on the audio and audiovisual commercial communications embedded in or accompanying children's shows, which advertise foods and beverages that are high in fats, saturated fatty acids, salt/sodium and sugars, and the excessive intake of which as part of the everyday diet is not recommended.
The exchange of information between the two Agencies will be aimed at ensuring consistent compliance with the legally prescribed rules and standards concerning the commercial communications related to food and food supplements, stated AAAVMS Director Zoran Trajchevski.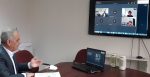 "Through this agreed cooperation, under the national regulations covering this area, today, together with the AAAVMS,before the consumers, the institutions and the business community,we lay the foundations for responding to the contemporary advertising requirements concerning this category of products. This willensure maximum safety of the food and the nutritional supplements offered on the market, and that the consumers shall not be misled or deceived by the operators," said Nikolche Babovski, Director of the Food and Veterinary Agency.