AAAVMS AND ARCOM HOLD BILATERAL MEETING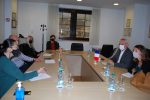 Skopje, 31 March 2022 – Representatives of the Agency for Audio and Audiovisual Media Services held a working meeting today with Benoît Loutrel, Member of the College of the French Audiovisual and Digital Communication Regulatory Authority (ARCOM).
The purpose of the visit was to share experiences and viewpoints in the area of several segments, including the implementation of the revised Directive on Audiovisual Media Services, monitoring of media content during electoral processes, the ban on retransmitting channels that appear to be founded by the Russian Federation or private individuals, physical or legal persons originating from the Russian Federation. The participants in the meeting also discussed the regulation of the social networks.
At the end of the meeting, it was concluded that bilateral relations were of exceptional importance and that this practice should continue in the future.