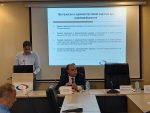 Skopje, 29 June, 2022 – The Agency for Audio and Audiovisual Media Services held its Second Public Meeting for this year today. On this occasion, Agency Director Zoran Trajchevski presented an overview of the activities carried out in accordance with the Agency's Annual Work Programme for the past three months.
Those present at the meeting had the opportunity to hear about the activities related to the supervisions conducted over the broadcasters, operators of public electronic communication networks, the providers of on-demand AVM services, print media publishers, the research conducted, and the activities in the field of international cooperation.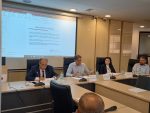 Also presented at the meeting were data on the legal provisions that the broadcasters had violated most often in 2021 and the first half of 2022, and the resulting criminal proceedings the Agency had initiated. The most frequent violations, as indicated by Ivona Mufisheva, MA, from the Agency's Department of Legal Affairs and Public Procurements, were against the obligations to broadcast originally created programme, provide information that should be made available to the users, and ensure minors' protection. A discussion was opened on this topic, which, as Deputy President of the Agency Council Selver Aydini pointed out, was aimed at identifying the reasons for the violations and producing recommendations for the radio and television stations as to what they should pay more attention to in the future in order to increase the degree of compliance with the legal obligations.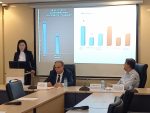 Dimitar Mitsev of Kanal VIS TV spoke about the implementation of media regulation to date and the proposals for its amendment with the aim of improving the conditions of the local and regional media outlets. Special emphasis was placed on the need for creating a media fund, lifting of the ban on advertising under Article 102 of the LAAVMS, the high fines, and the rules for granting radio and TV broadcasting licenses. The issue of the poor financial situation of the media outlets and the possibilities of providing support to their operations was raised as well.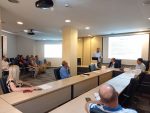 The presentations are available at the following links:
"Activities Conducted in Line with the AAAVMS' Annual Work Plan"
Zoran Trajchevski, PhD, AAAVMS Director
 "The Most Frequent Violations of the Legal Provisions: How to Remove Them?"
Ivona Mufisheva, MA, AAAVMS
"Experiences from the Implementtion of Media Regulations – Proposals for Their Amendment"
Dimitar Mitsev, Kanal Vis TV