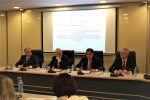 Skopje, 10 November 2022 – On the occasion of its 25th anniversary, today and tomorrow, the Agency for Audio and Audiovisual Media Services is hosting a Regional Meeting of the Media Regulatory Authorities. Participating in the Meeting are representatives of the regulatory bodies from Slovenia, Croatia, Bosnia and Herzegovina, Serbia, Montenegro, Kosovo, Albania and Bulgaria.
As Agency Director Zoran Trajchevski pointed out at the opening, "a quarter of a century of existence is a sufficient indicator of the good and successful operation of the Macedonian media regulator in promoting freedom of expression and media literacy, protection and development of pluralism, prevention of ilicit media concentration, minors' protection, protection of both the national and the citizens' interests in the field of audio and audiovisual media services".
The President of the State, Mr. Stevo Pendarovski, addressed the present at the event via a video message. He welcomed the Agency's efforts for promoting regional cooperation for the purpose of exchanging experiences with the countries in the region, here including both the countries that are already members of the EU and have harmonized their national legislations, the countries that are going through the process of memebership negotiations, and the countries that have similar aspirations but have not yet started negotiations.
Ambassador and Head of the Delegation of the European Union in Skopje Mr. David Geer held a greeting speech, in which he emphased the importance of media regulation and the regulators' role in this process. He stressed that, for the smooth functioning of the regulators, it was necessary that they be politically and financially independent. The exchange of good practices and experiences is of exceptional importance, especially now that the country's bilateral screenings with the European Union have begun.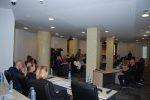 At one of the sessions, moderated by the Memeber of the AAAVMS Council Zoran Fidanoski, experiences were shared about the procedures for appointing and dismissing the management bodies and about how to preserve the regulators' independence in times full of challenges present in various social spheres.
During the session dedicated to resources, competences and powers for efficient implementation of the regulators' duties, Deputy President of the AAAVMS Council Selver Ajdini pointed out that adequate and stable financial and human resources were the key elements for smooth, efficient and independent functioning of the regulators.
The representatives of the regulatory bodies also discussed the new media environment and the importance of mutual cooperation in dealing with the legislative challenges and the challenges imposed by the technological development in the audiovisual sphere.