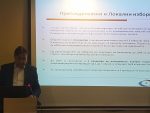 Skopje, 17 June 2019 – Today, the Agency for Audio and Audiovisual Media Services held its Second Public Meeting in 2019. On this occasion, Director Zoran Trajchevski presented the activities that the Agency had had carried out during the past quarter, in line with the Annual Work Programme, such as monitoring of the media coverage of the election campaigns for the presidential and early local elections, supervisions over the broadcasters, the print media publishers, the operators of public  electronic communication networks, the providers of on-demand audiovisual media services, the pronounced public warning measures and the activities in the international sphere.
At the meeting, the Agency launched two publications – the "Media Literacy Policy" and the "Media Regulatory Authorities and the Protection of Minors" – which had been prepared within the frameworks of the joint project of the European Union and the Council of Europe on "Enhancing Judicial Expertise for Freedom of Expression and the Media in Southeast Europe" (JUFREX).
The publication "Media Literacy Policy" was prepared, for the needs of the Agency, by the Secretary General of EAVI, Paolo Celot, and the same constitutes a roadmap for the further development of media literacy in Macedonian society, taking into account the citizens as its end users. The publication is based on firmly established concepts, reaffirmed by the international scholarly community and embedded into the policies of the European Union and the standards and procedures of the Council of Europe. It comprises four components: critical awareness, digital wellbeing, a world of emotions and full citizenship, on which the Agency should be working in the forthcoming period, along with the relevant stakeholders in this area. The publication is printed in Macedonian, Albanian and in English.
The publication titled "Media Regulatory Authorities and the Protection of Minors" is to contribute, among other things, to a more comprehensive understanding of the concept of protecting juvenile audience from harmful content in the audiovisual media services, the role of the national regulatory bodies in this sphere, and the need to involve various stakeholders in order to ensure safe environment both on the Internet and outside of it, as well as to offer a starting point for making recommendations and creating mechanisms for the protection of minors, and to facilitate further efforts and initiatives. This edition is a useful and important tool in the further activities not only of the regulator, but also as part of the discourse of all stakeholders in society.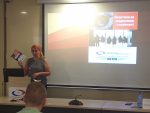 The presentations held at the Second Public Meeting are available at the following links:
Activities carried out in line with the Annual Work Programme of the AAAVMS
Zoran Trajchevski, PhD, Director of the AAAVMS
Emilija Petreska Kamenjarova, M.A., Head of the Human Rights and Media Literacy Unit
 Media Regulatory Authorities and the Protection of Minors
 Viktor Stojanov, Human Rights and Media Literacy Unit