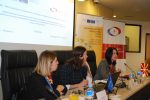 Skopje, 30 January 2020 – The Council of Europe and the Agency for Audio and Audiovisual Media Services held a workshop for broadcasters and providers of on-demand audiovisual media services yesterday, with the aim of using the experiences gained from the European and domestic practices to develop a self-regulating document that would provide better access to media for persons with sensory disabilities. The workshop was part of the second phase of the JUFREX project on "Freedom of Expression and Media Freedom in the Republic of North Macedonia".
At the workshop, CoE expert Deirdre Kevin presented inter alia the rights and obligations of the EU Member-states and candidate countries, the participants in the audiovisual sector and the other stakeholders, in relation to the relevant acts of the United Nations and the Council of Europe, as well as the obligations arising from the revised Directive on Audiovisual Media Services. For this purpose, she made a comparative analysis of the European practices regarding the activities undertaken by the broadcasters in order to implement the different ways of providing access to audiovisual media services for persons with disabilities.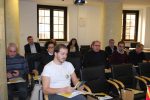 The national TV 24 Vesti and the regional TV M from Ohrid shared their experiences from the production and the provision of programmes in the sign language for the hearing impaired. As they pointed out, the financial aspect of providing such programmes remains as the key challenge, however, the benefits this brings about are the increased viewership of the accessible programmes and the realization of the human rights of the persons with sensory disabilities.
Ms Kevin also presented a comparison of the role of the media regulatory bodies in this process, while Saso Bogdanovski of the Macedonian Agency for AVMS mentioned some of the findings of a previous research into the needs and perceptions of people with visual and hearing impairments with regard to these types of programmes.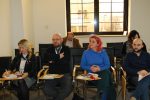 At the end of the event, there was a discussion on the draft self-regulating document on the accessibility of audiovisual media programmes. By means of this document, the audiovisual service providers in the country will be able to adopt a way in which, in accordance with the requirements of the AVMS Directive, they will gradually make their programmes continuously accessible to persons with disabilities. A question was raised about the time period within which both the private media outlets and the public broadcaster will manage to provide diversity of such programmes, in this taking into account the opinions and needs of persons with sensory disabilities. All remarks that resulted from the workshop will be incorporated in the Draft Document, which will be presented at the next working meeting.
The presentations of this workshop are available at the links given below:
Accessibility: Right and obligations
Key elements of European regulation and policies
Deirdre Kevin, Council of Europe
The needs of people with visual and sensory impairments – AAAVMS research findings
Sasho Bogdanovski, M.A., AAAVMS Programme Affairs Department