18.04.2011 BC, AJM, MOST and other Representatives from the Media defined the Legal Framework for the Media Coverage of the Elections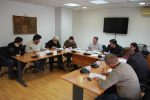 SKOPJE, 18.04.2011 – The members of the Broadcasting Council (BC), the leadership of the Association of Journalists of Macedonia (AJM), representatives from the non-governmental organization MOST and representatives from the rest of the civil sector on today's meeting jointly reviewed, commented on and improved the rulebooks for media coverage of the elections prior to and during the election campaign, which BC offered as draft versions.
"It is my pleasure to conclude that jointly with the representatives from AJM and from the civil sector we have defined the rules for media coverage of the elections with a broad consensus, with an aim on providing highest guarantee of balanced reporting, without affecting the editorial policy of the media and without having any negative implications on the creativity of the media professionals. The main goal of BC stays the support we give to the pluralism in the broadcast area and the protection of the right of free informing." – said the BC President, Zoran Stefanoski, after the end of the meeting.
After the meeting with the media and civil society representatives and after the regulatory framework for media coverage of elections was defined, prior to the adoption of the final texts of the rulebooks, in the spirit of maximal transparency and inclusiveness, the BC will continue the consultations with the State Election Commission. In the process of preparation of the final version of the rulebooks BC will take in consideration all constructive comments and legally supported remarks.