March 02, 2012 Representatives from BC briefing on media regulation in 2011 during the regular subcommittee session between RM and EC in Brussels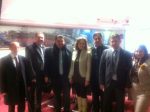 Skopje, March 02, 2012 – The detailed Analysis of the broadcasting market in 2010, which was produced by BC, was presented during (from 27 to 28 February) the regular joint Subcommittee on Innovation,
Information Society and Social Policy between the Republic of Macedonia and the European Commission attended on behalf of BC by the Deputy President of the Council, MA Milaim Fetai and the BC member – MA Zoran Trajchevski.
During the joint meeting the efforts of the Council on the protection of media pluralism in the country, by successfully solving all of the five cases of media concentration, were also presented. The efforts of the Council for consistent and effective implementation of the Law on Broadcasting in the area of ​​media ownership were highlighted, as well.
The European Commission noted that it recorded a significant decline regarding the campaigns of public interest, funded by the Government or government institutions. For example, according to recent studies of the BC, on the list of major advertisers the Government is on the 18th position, compared to three years ago, when it was among the top five.
The representatives from BC also presented to their EC partners data of the produced two semi-annual analyses of the most common violations of broadcasters and the measures undertaken by the BC in 2011.
The presentation of the Council's achievements in 2011 is available at the following link.