June 16, 2012 Successful public debate on the future of the media regulation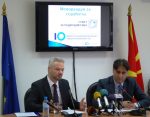 Skopje, June 16, 2012 – Over 80 representatives from the media, the state institutions and from the civil sector have participated in the public debate on the future of media regulation and the regulation of the new media, which was organized by the Broadcasting Council.
Addressing the media representatives, the President Zoran Trajchevski, has accentuated the new possibilities for development of the classical media in the domain of the new technologies as a chance for qualitative enrichment of the media pluralism: '' The new manners of distribution of the audio-visual contents are a possibility for growth and progress for yours media businesses. We cannot expect that the media that do not have stabile finances, that survive from one election campaign to another, to contribute in terms of the quality towards the enrichment of the media pluralism. It is only an illusion. Our country needs a quality media forum for exchange of ideas and points of view, and not media that are accompanying businesses and quasi commercials companies of the main business of the media owners.''
The rule of law is one of the main pillars of democratic societies. Unselective application of the laws is the BC's obligation as a regulatory body – Trajchevski said, by reinsuring the broadcasters that: '' we as a regulatory body have the tasks to create working conditions for you, to direct you, to educate and support you… It has to be clear to all of us that the rule of law and its unselective implementation is a distinction of the prosperous world.''
In the following course of the public debate, the regulation on advertising and the reform that the EU Directive on audio-visual media services envisages were discussed in more details.
Subject of the discussion were also questions regarding the regulation of the new media, if and what type of regulation do they need and also, the nonlinear media services and how to protect and nourish the media pluralism in the new media surrounding.
Documents for download:

The speech of the President Zoran Trajchevski
The presentation of the reform of the regulation on the commercial communications
The presentation of the regulation on the new media
The presentation of the media concentration in the new media surrounding