February 28, 2013 Workshops with broadcasters on the rules for media coverage of the election campaign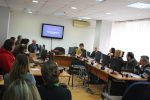 Today the Broadcasting Council (February 28, 2013) held a workshop dedicated to media coverage during the campaign for the local elections 2013. At the workshop, together with representatives of broadcasters at the national and regional level, the Rulebook on equal approach in media presentation during the election campaign was discussed, as well as the monitoring methodology of the Council.
Today's meeting was the last in a series of regional meetings which over the past month were held in Kumanovo, Stip, Strumica, Kavadarci, Kicevo, Bitola and Ohrid, and to which representatives of local media gravitating to the regions of these cities were invited.
The key topics discussed at all workshops were, as follows: how to achieve balance in reporting on the campaign in the news, rules for interviews, debates and other special information programmes, paid political advertising, free representation and rules of electoral silence.
Presentation on the rules for media coverage in the election campaign (download the ppt presentation).