The Agency presents activities completed in the past quarter at its Second Public Meeting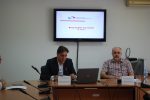 Skopje, 16. 06.2015 – The Agency for Audio and Audiovisual Media Services held its Second Public Meeting in 2015, in line with the Law on Audio and Audiovisual Media Services. Agency Director Mr. Zoran Trajcevski, Ph.D., spoke about the activities conducted in accordance with the Agency's Annual Work Programme, stressing the following:
"We have been continuously increasing our tendency towards transparency and accountability in our work. The presentation of this rather voluminous summary of realized quarterly activities is to this aim as well."
The supervisions conducted were presented in detail, as were the imposed warning measures concerning the broadcasters, operators of public electronic communication networks and the print media. Emphasis was also given to the acts that had resulted from the process of harmonization of the domestic legislation with the European laws; the issuance of new licenses for television broadcasting, of which two are at the national, and three are at the regional, levels; the termination of transmission and retransmission of radio and television programme services by three operators of public electronic communication networks, as well as the activities for implementing the Strategy for the Development of Broadcasting Activity in RM, 2013-2017.
The implementation of the IPA TAIB 2009 Project, funded by the European Union and dedicated to "Enhancing the Administrative Capacities of Telecom and Media Authorities for Efficient Regulation of New Digital and Multiple Play Services",was presented by Mr. Ognen Nedelkovski, Head of the Cultural Identity Division and senior officer of this project, who elaborated on the activities realized as part of this project.
At the end of the meeting, Director Trajchevski pointed out that the Agency was open for cooperation and called on all broadcasters, print media and operators of public electronic communication networks, as well the remaining concerned parties, to give their opinions or proposals on certain topics of interest to the entire public, which would be presented at the subsequent public meetings.