Working Meetings Held with the National Broadcasters on the Rules for Media Coverage of Elections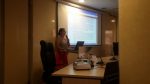 Skopje, 2 September 2016 – Today, the Agency for Audio and Audiovisual Media Services held working meetings with the national broadcasters in the Republic of Macedonia and the Public Broadcasting Service. The aim of these meetings was to inform the TV and radio broadcasting services – and remind them once again – about the rules for media coverage of the elections.
The media representatives had an opportunity to recap the obligations they have under the Electoral Code, as well as the new obligations arising from the Law on Amending and Supplementing the Electoral Code. Also discussed was the Methodology for Monitoring Media Coverage of Elections by the Radio and Television Programming Services during Electoral Processes, in line with which the Agency will be conducting its monitoring of the media coverage of the elections – the same that has been implemented during several electoral cycles to date.
On this occasion, the media workers obtained more detailed explanations about the goals and the object of monitoring, the various obligations that broadcasters have during the periods before the calling of elections, following the calling of elections, the election campaign and the election silence, as well as about the manners in which these will be monitored. One of the specific features of this particular electoral process is that the monitoring of media coverage is starting 100 days before the date of the elections that will be held in 2016.