Macedonia Speaks Before ERGA on Behalf of the Western Balkan Countries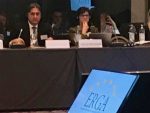 Zagreb, 23 March 2018 – The representatives of the European Regulators' Group for Audiovisual Media Services (ERGA) spoke in Zagreb, yesterday and today, about the ways to address fake news inflow and the importance of regional and broader cooperation in terms of exchange of experiences and good practices.
This was the first time that an ERGA meeting was attended by an EU Commissioner on Digital Economy and Society, whose competences cover media, as well. EU Commissioner Mariya Gabriel underlined the need for the Western Balkan countries to approach harmonization of their legislations in the audiovisual sphere with the EU Audiovisual Media Services Directive, as part of their EU integrative aspirations. She pointed out that viewers and listeners would be the ones who would benefit the most from this, and that this would also contribute to raising competitiveness in the media sphere.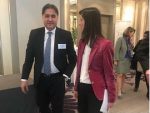 At the meeting, the stands of the regulators from the Western Balkans could be heard for the first time. On their behalf, the Director of the Agency for Audio and Audiovisual Media Services, Zoran Trajchevski, underlined that news and information did not know any physical boundaries, due to which bilateral and regional cooperation, as well as stirring discussions on important regulatory issues, were of particular importance.
On this occasion, Trajchevski had an opportunity to talk with EU Commissioner Mariya Gabriel about the development of the audiovisual sector in the Western Balkan counties. The same topics were also discussed with the representative of the Electronic Media Council of the Republic of Bulgaria, Maria Stoyanova, whose country will be chairing the EU, starting from June this year.