Students of the Faculty of Economy in Skopje Visit the Agency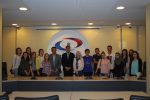 Skopje, 24 April 2018 – Students of the Economy Department of the Ss Cyril and Methodius University's Faculty of Economy in Skopje, paid a visit to the Agency for Audio and Audiovisual Media Services today, as part of their practical tuition in the subject of State Regulation. During the visit, the students were acquainted with the competences and the most important aspects of the Agency's everyday operations – the types of supervision and the manner of their implementation, granting of radio and television broadcasting licenses, activities for promoting media literacy and gender equality, imposing measures against the broadcasters, the operators of public electronic communication networks and the print media, as well as with their most frequent violations in 2016 and 2017.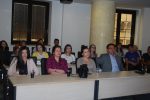 The Agency welcomes the students' interest in acquiring new knowledge and remains open for cooperation with all universities and schools that show interest in learning in more detail about the regulator's work and the situation in the audiovisual sphere.