Agency Held its Fourth Public Meeting in 2018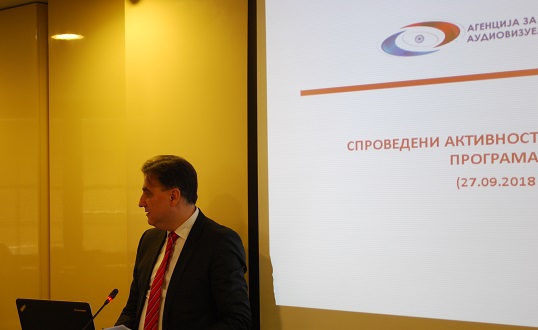 Skopje, 27 December 2018 – Today, the Agency for Audio and Audiovisual Media Services held its Fourth Public Meeting in 2018. At the meeting, Agency Director Zoran Trajchevski presented the activities conducted during the previous quarter, as envisaged by the Annual Work Programme of the Agency – the supervisions conducted over the broadcasters, print media publishers, operators of public electronic communication networks and providers of on-demand audiovisual media services; the imposed warning measures; the activities in the area of international cooperation, etc.
The attendees had an opportunity to hear about the novelties in the revised Directive for Audio and Audiovisual Media Services, which came into force on 18 December 2018, and which the EU member states are to incorporate into their national legislations. The revised Directive envisages amendments in terms of the audiovisual commercial communications, the advertising limits, sponsorship, product placement and teleshopping. It reinforces the rules concerning protection against violence and hate speech, protection of the integrity and independence of the editorial responsibility concerning the programmes and services. As regards media literacy, the recommendation is to direct the activities towards equipping the citizens with critical thinking skills, which are required to form their own opinion about certain issues and recognize the difference between opinions and facts.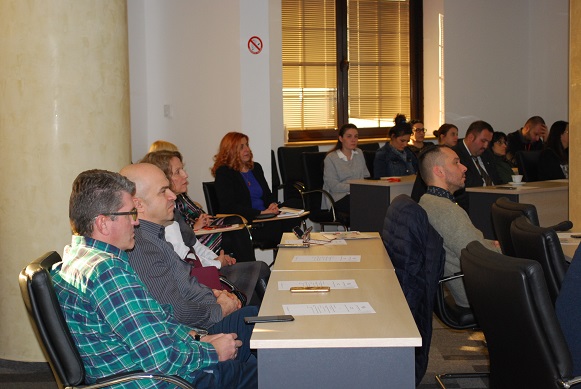 Also presented at the meeting were the data collected during the research into gender issues and into the way men and women were depicted in the programme concepts and contents of the mass media in 2018. The research results indicating the status of gender and gender topics and their representation on the screen, as well as behind the screen, among the persons responsible for creating and conducting the editorial policies of the media outlets, will be published in the form of a booklet, in the Macedonian, Albanian and English languages.
At the end of the meeting, the Agency representatives launched the infographics presenting the results of the Agency's researches into the audience standpoints regarding the depiction of the LGBTI community in the media back in 2017, and the amount of children's programmes on the national television broadcasters based on the genre structure, country of origin, the amount of children's shows in the total weekly programme, and their content classification and rating symbols. The Agency printed the two separate infographics into Macedonian, Albanian and English for the purpose of making them more accessible for the citizens.
The Presentations given at the Fourth Public Meeting may be downloaded from the following links:
Zoran Trajchevski, PhD, Agency Director
Emilija Janevska, M.A.
Marina Trajkova
Viktor Stojanov
---
– The agenda of the Fourth Public Meeting of the Agency for Audio and Audiovisual Media Services in 2018 can be downloaded here 
– The Registration Form for participation in the Fourth Public Meeting of the Agency for Audio and Audiovisual Media Services in 2018 can be downloaded here