25.06.2010 Criminal charges against cable operators, which illegally re-transmit the World Football Championship
SKOPJE, 25.06.2010 – Ten misdemeanor and four criminal charges will be initiated against cable operators, which violate the Broadcasting Law. This decision was adopted during the last session of the Broadcasting Council after a conducted monitoring of the programs that are re-transmitted by cable operators within their analogue and digital packages outside of the capital city.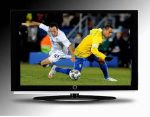 "The misdemeanor procedures mostly refer on re-transmission of programs with no regulated author's rights; some operators are going so far, that offer whole program packages that have not been registered by the Broadcasting Council. As a regulation authority, we will not tolerate this kind of illegal activities." – said the President of the Council, Zoran Stefanoski.
Through initiating criminal charges the Council penalized those cable operators, which illegally broadcast the World Football Championship by retransmission of foreign TV channels. The members of the Council reminded the operators that only the Public Broadcasting Service – Macedonian Radio and Television has exclusive rights for re-broadcast of the World Football Championship.
The Broadcasting Council continues with the intensive monitoring of the public communication networks as well in Skopje as in the rest of the country.