July 20, 2012 The Broadcasting Council and the Faculty of Electrical Engineering and Information Technologies signed a Memorandum of Cooperation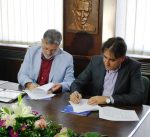 Skopje, July 20, 2012 – The promotion of the cooperation in the introduction of digital television, knowledge exchange, participation in science and research projects and providing practice for students – these are the main areas envisaged in the Memorandum of Cooperation, which was signed today by the President of the Broadcasting Council (BC),
MA Zoran Trajchevski and the Dean of the Faculty of Electrical Engineering and Information Technologies (FEIT) within the Ss. "Cyril and Methodius" University, Professor. DSc. Mile Stankovksi.
"It will be very important for us, if the lecturers of FEIT participate in the drafting of the Strategy for the development of broadcasting in the period 2013-2017. Knowledge, experience and expertise of this faculty will contribute significantly towards qualitative improvement of the regulatory framework in the dynamic media sphere. "- said the President of the Council, Mr. Trajchevski.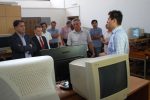 The professors and students from FEIT showed the BC delegation the recently modernised laboratories available to the faculty and the current projects that are underway, such as the software for recognising different types of programming content, systems for monitoring of frequencies, application solutions for conversion of content from two-dimensional to three-dimensional television, etc.
BC and FEIT will soon introduce a regular internship programme so that students of FEIT will be able closely, through practical engagement, to learn about the work of the Council.