December 28, 2012 Promotion of the Module for monitoring and professional supervision over the operators of public communication networks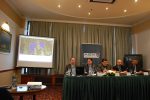 The Broadcasting Council together with the Agency for Electronic Communications developed a web application that is an additional module of the "system for electronic register of public communications networks". This is a project that is a result of the Memorandum of Cooperation between BC and AEC signed in June 2012.
The web application will serve for: technical supervision of the operators of public communication networks, in terms of programme services and programme packages they retransmit, access to data via the Internet at any time and from any place through the existing GIS platform in AEC, visualisation of the territory on which programme services are broadcasted, thus creating conditions for further analysis of the data on using the services of operators by end-users, as well as, spatial mapping of performed professional supervisions, so that the professional supervision will be consistently represented throughout the whole territory of Republic of Macedonia.
" The cooperation between BC and AEC in the development of the web application enables joining of the capacities of both institutions, redundancy of data was avoided and implementation of an extremely important project was enabled. The collaboration between the two institutions is based on the principle that data are created and updated by the competent institution, while other entities have access to the required data via web services. BC and AEC will continue the cooperation on projects that are important for the development of the Republic of Macedonia, " agreed the heads of BC and AEC, PhD Zoran Trajchevski and Mr. Robert Ordanoski.
The implementation of this project also encourages other institutions to develop electronic data exchange via web services and to contribute to building the National Spatial Data Infrastructure (NSDI), which is particularly important for the development of the Republic of Macedonia.