May 29, 2013 Presenting of the amended broadcasting licences
Skopje, May 29, 2013 – The Broadcasting Council today presented the amended broadcasting licenses. As of 1 June 2013, by the multiplex operator "One", five national TV stations and 26 regional ones will broadcast their programme and by a public electronic communication network operator 30 TV stations, out of which 27 local and 3 regional TV stations, will broadcast programme.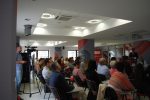 Macedonia managed to timely implement all necessary preparations to be digitised within the specified deadline and, as the Minister Ivo Ivanovski stated, Republic of Macedonia is the first country in the region that has introduced digital signal in the ether.
The Broadcasting Council conducted numerous activities for successful transition to digitisation and information of citizens "Digitisation will not only mean technological progress, but the citizens of Macedonia, except better picture and better quality of sound will get new, more diverse programmes" – said the President of the Broadcasting Council Zoran Trajchevski.