NATO Representative Laurie Walker pays a working visit to the Agency for Audio and Audiovisual Media Services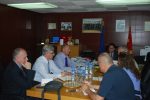 Skopje, 21.05.2015. – Mr. Laurie Walker, Balkans Desk Officer from the NATO HQ in Brussels paid a working visit to the Agency for Audio and Audiovisual Media Services yesterday, along with NATO's MAP team at the expert level.
The focus of the visit was placed on assessing the status of implementation of the Membership Action Plan as part of the 16th cycle of the MAP process concerning the Republic of Macedonia, as well as the stage of realization of the activities and goals envisaged by the 2014-2015 Annual National Programme of the Republic of Macedonia for NATO Membership.
At the meeting, the accent in the issues of interest raised by Mr. Walker was on the advantages of the new legislation and how much it had contributed to the improvement of the Regulator's work. On the Agency's part, the new model of work and the composition of the Council's members were presented in detail, as were the diversity of the Council members' proposers and the legal novelties ensuring their independence; the distribution of competences between the Director and the Council, and the role of the Council in adopting important legal acts and decisions. Also underlined were the increased authority of the Agency's expert service with regard to pronouncing measures concerning the broadcasters; the Regulator's financial independence, and its sources of financing.