Agency holds six trainings on the rules for election media coverage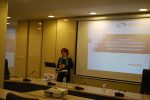 Skopje, 19.02.2016 – In the period from 15 to 19 February 2016, the Agency for Audio and Audiovisual Media Services held six trainings for the national, regional and local broadcasters in the Republic of Macedonia, and the Public Broadcasting Service.  The goal of the trainings was to inform the TV and radio programming services about the rules of election media coverage.The training workshops were held in Tetovo, Ohrid, Stip and Skopje. The media representatives attending had an opportunity to learn about their obligations arising from the Electoral Code, as well as about the Methodology that the Agency would use to conduct the monitoring of election media coverage. At each of the trainings, the attendees received detailed explanations of the goals of the monitoring, the various obligations that the broadcasters would have in the periods before the start of the election campaign, during the election campaign and during the electoral silence, as well as about the manners in which they would be monitored.
The media workers of the Public Broadcasting Service received a separate training that also covered the obligations arising from the Rules for Media Coverage of Electoral Processes (i.e. balanced political media coverage), which the Macedonian Radio and Television (MRT) had adopted in line with its obligation under the Electoral Code.
The presentations of the trainings on the rules for election media coverage can be downloaded at the following links:
Elections 2016: Monitoring of Election Media Coverage – Training for the Broadcasters
– Video of Training for the media can be downloaded at the following link
Elections 2016: Monitoring of Election Media Coverage – Training for the MRT