Regulatory Authorities of Republic of Macedonia and Republic of Albania Hold Bilateral Meeting in Tirana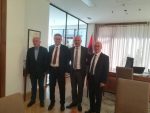 Tirana, 30 March 2018 – A delegation of the Agency for Audio and Audiovisual Media Services of the Republic of Macedonia and representatives of the regulatory authority of the Republic of Albania (AMA) agreed on enhancing mutual cooperation and increasing exchange of experiences in the sphere of media regulation at a meeting in Tirana, today.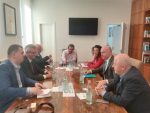 At this bilateral meeting, the two regulatory authorities discussed the experiences related to the process of television digitalization, media content monitoring, author's rights, advertising, and the development of media and technological innovations in this area. As part of the meeting, a visit was paid to the Albanian national television station Top Channel.
The two parties concluded that there was room for promoting bilateral relations, particularly concerning the issues of common interest and, to this aim, announced signing of a Memorandum of Cooperation in the foreseeable future.