Publication Launched on "Media Regulatory Authorities and Hate Speech"
Skopje, 12 April 2018 – The Agency for Audio and Audiovisual Media Services (AAAVMS) launched a publication titled "Media Regulatory Authorities and Hate Speech" at today's Conference dedicated to "Hate Speech in the Media". The publication conveys the experiences and practices of the regulators in Albania, Bosnia and Herzegovina, Kosovo, Macedonia, Serbia, Croatia and Montenegro.
As Agency Director Zoran Trajchevski announced, the publication compiles comparative data on the legislation related to hate speech in each of the above countries, the competencies of the regulatory bodies, the modus operandi and some characteristic individual examples.
"It was important to contextualize all this in the discourse used within European boundaries to speak about hate speech; to draw conclusions from the past and, certainly, give recommendations for the future," said Mr. Trajchevski.
Certain concrete examples of addressing this issue were presented by Ms. Emilija Petreska-Kamenjarova of the Agency for Audio and Audiovisual Media Services, Ms. Asja Roksha-Zubchevic of the Regulatory Agency for Communications of Bosnia and Herzegovina, and Mr. Stanislav Bender of the Agency for Electronic Media of Croatia.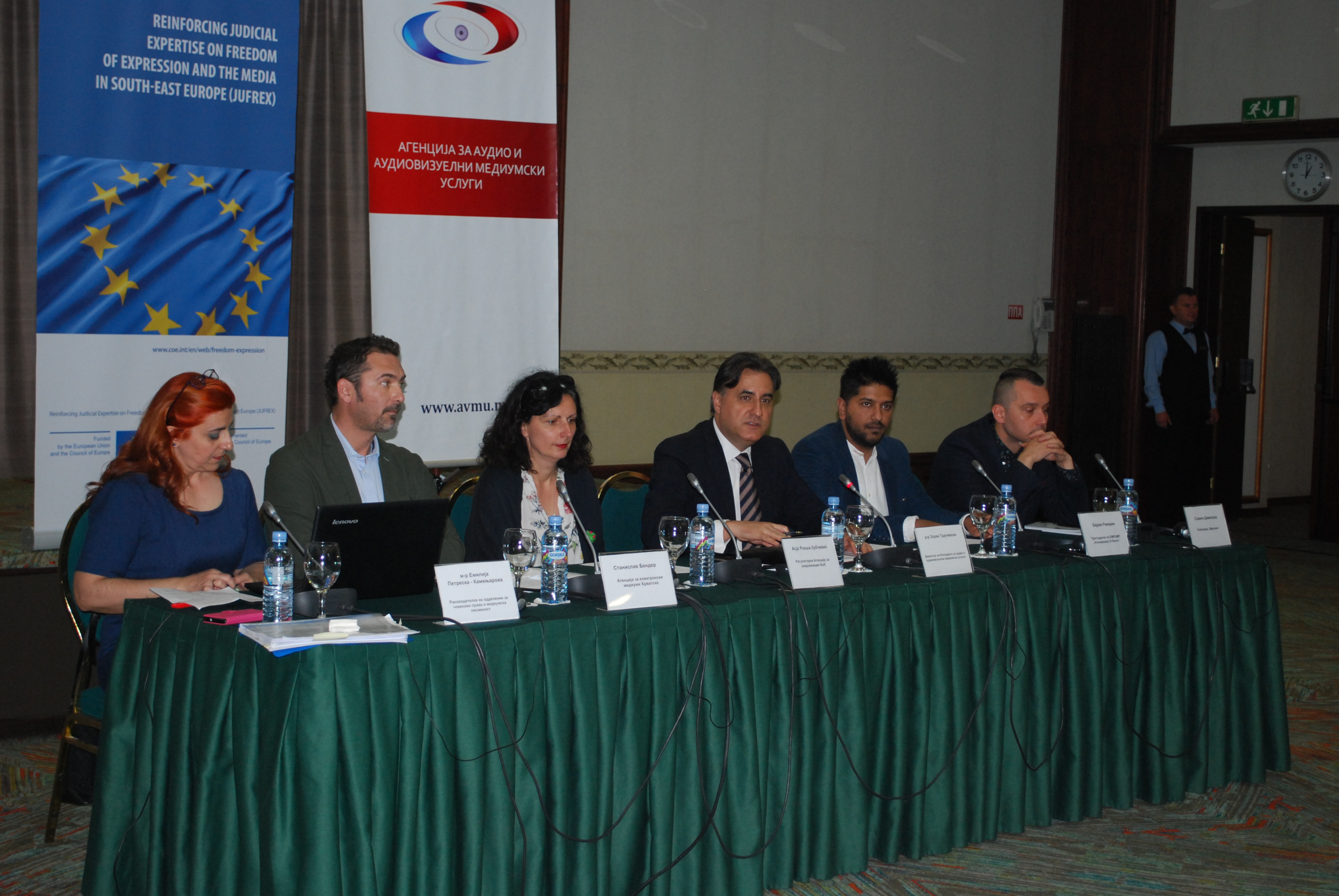 Also discussed at the Conference were the stereotypes, discrimination and hate speech against the Roma and the members of the LGBTI community. The President of the "Education and Media Development Centre for Young Roma – Association 24Vakti", Mr. Bajram Ramadan, presented the findings of the survey on the way Macedonian media had been reporting on the Roma, contained in a publication titled "A Picture of the Roma: Hate Speech, Anti-Ziganism and the Media", while Mr. Slavco Dimitrov of the "Margini" Coalition presented the results of the survey into audience' standpoints regarding the depiction of LGBTI members in the radio and television programmes, which was a result of the cooperation between the Coalition and the Agency.
The Conference was organized as part of the project on "Reinforcing Judicial Expertize on Freedom of Expression and the Media in Southeast Europe" (JUFREX), implemented jointly by the European Union and the Council of Europe.