08.10.2010 BC was officially announced in Belgrade as a host of a next EPRA meeting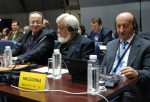 BELGRADE, 8.10.2010 
– The Broadcasting Council of Republic of Macedonia (BC) was officially announced as a host for the next spring meeting of the European Platform of Regulatory Authorities (EPRA), scheduled for 25-28 of May 2011, in Ohrid.
(Picture: left to right: The President of the Council, Zoran Stefanoski, the member of the Council, academician Bojan Shoptranov and vice-president of the Council, Milaim Fetai)
On this years EPRA meeting, held I Belgrade, also the Macedonian delegation from BC led by the President Zoran Stefanoski took part in the conference. At the end of the working session Stefanoski invited all European regulatory bodies for media to come on the 33rd EPRA meeting in Macedonia: " Now, in the name of the Macdonian Broadcasting Council, I would like to invite you all to come to the next EPRA meeting, which will take place in Ohrid, the city of light." – said Stefanoski.
Being a member of EPRA is a proof that the BC works as a real independent regulatory body for electronic media. Therefore the trust that EPRA gave to BC to host over 52 regulatory bodies from all over Europe.
EPRA was established in 1995 in Malta with a seat in Strasburg. Constant observers of EPRA are the European Commission and The Council of Europe. This platform is platform for discussion about all questions and challenges in the area of broadcasting and serves as a forum where different experiences and best practices are exchanged between the countries-members. BC is an EPRA member since 1998 under the constitutional name of the country: "Broadcasting Council of Republic of Macedonia".
More information about EPRA available here: www.epra.org