April 18, 2012 MA Zoran Trajchevski is the new president of the BC
Skopje, April 18, 2012 – Members of the Broadcasting Council at today's meeting unanimously elected MA Zoran Trajchevski the new President of the BC, after determining the completion of the mandates of the three former members, the Academician Ali Aliu, Professor Tome Gruevski and Zoran Stefanoski.

In his first public address as President of the BC, Mr. Trajchevski referred to the tasks of the future reformed Macedonian media regulation: "Macedonia needs media order, which will have have as its mission the qualitative advancement of media pluralism through the use of the whole media creativity, media order, which will promote professional journalism standards, that would motivate the debate, which will allow the editorial staff to impose social discourse topics – and ultimately, we need media order, which would guarantee the right of citizens to be informed objectively. "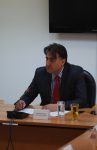 This year BC marks 15 years of its existence. Thus, BC is the oldest regulatory body in the Republic of Macedonia and one of the oldest media regulatory bodies in the region in general. Regarding the celebration of the 15th anniversary Mr. Trajchevski added: "The 15thanniversary of the Macedonian media regulatory body – the Broadcasting Council – is a good reason for setting the main strategic goals of future media regulation, which include: addressing conflicts of interest in media ownership structure, suppression of illegal media concentrations and enriching the pluralism through digitisation of broadcasting and promotion of new technologies. "
The Assembly of the Republic of Macedonia in August 2011 elected Mr. Zoran Trajchevski a member of the Broadcasting Council for a term of 6 years.
Address by Mr. Zoran Trajchevski to the public after the election for President of the BC