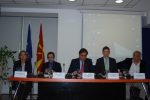 Skopje, 24.04.2015 – The Agency for Audio and Audiovisual Media Services held a workshop in the premises of the EU Info Centre in Skopje, to present the Draft Programme for Promoting Media Literacy in the Republic of Macedonia.
Under the Law on Audio and Audiovisual Media Services, the Agency was entrusted with the obligation to take up activities towards promoting media literacy. As a result, the Draft Programme envisages activities that the Agency will be conducting in the coming years to raise and monitor the media literacy level. Media literacy is part of the broader social, cultural and political context and, as the Director of the Agency, Mr. Zoran Trajchevski, said, "The Agency approaches media literacy not only from the viewpoint of citizens' access to the media, but also from the aspect of critically understanding the media contents and creating communications within diverse contexts".
Mr. Paolo Celot, Secretary General of the European Association for Viewers' Interests (EAVI) and IPA expert, spoke about the Draft Programme, media literacy in Europe and its current development and challenges from the past, while Ms. Snezana Trpevska, Ph.D. – another expert from the IPA Project for "Enhancing the Administrative Capacities of Telecom and Media Authorities for Efficient Regulation of New Digital and Multiple Play Services" – dwelled on the role of media in promoting media literacy. Also presented at the workshop was the Macedonian version of the animated spot about the adventure of a boy called Jack, who became Jove with the help of the employees of the Agency and Mr. Zoran Petrov from Antenna 5 Radio, who lent his voice. The spot is titled "Adventure through Media Literacy".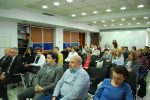 During the second part of the workshop, there was a panel discussion about the projects in the sphere of media literacy of the institutions – the policy makers, the education centres and citizens' associations. Representatives of the Bureau for the Development of Education at the Ministry of Education, the Directorate for Personal Data Protection, UNESCO Chair in Media, Dialogue and Mutual Understanding (the School of Journalism and Public Relations), and the "Metamorphosis" Foundation, presented their past, current and future projects.
This workshop was a serious step forward in the direction of creating a network of institutions and organizations that will support each other and cooperate, as media literacy is not an isolated phenomenon that is an aim in itself.
The presentations can be downloaded at the following links:
Spot "Adventure through Media Literacy"
Mr. Paolo Celot, (IPA TAIB 2009)
Media Literacy in Europe – Present Development, Past Challenges
Draft Programme for Promoting Media Literacy in the Republic of Macedonia
Ms. Snezana Trpevska, Ph. D. (IPA TAIB 2009)
The Role of Media in Promoting Media Literacy
Ms. Aleksandra Temenugova
Media Literacy Projects in Macedonia
Ms. Blaga Paneva, M.A.
Ms. Liljana Pecova-Ilieska
Media and Personal Data Protection – Where to Draw the Line
Mr. Vladimir Petreski