Interview on Cooperation between Regulatory Authorities of Macedonia and Bulgaria (Kanal 5 TV)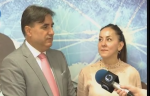 Skopje, 07.09.2017 – On 6 September 2017, following the bilateral meeting held between the two media regulatory authorities, Agency Director Zoran Trajchevski and Member of the Electronic Media Council of the Republic of Bulgaria
Maria Stoyanova had a joint interview for the news of Kanal 5 TV. AAs director Trajchevski pointed out, the two regulatory authorities had been maintaining excellent cooperation for years, for the purpose of sharing their positive experiences and practices and harmonizing media-related regulations, especially with regard to the measures taken in the course of and outside electoral cycles. The entire interview is available at this link.