Agency Holds its First Public Meeting in 2018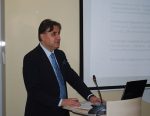 Skopje, 28 March 2018 – The Agency for Audio and Audiovisual Media Services held its First Public Meeting in 2018 today.  Agency Director Zoran Trajchevski spoke about the activities conducted in line with the Annual Work Programme, and presented the activities completed in the past quarter: supervisions over the broadcasters, the operators of public electronic networks and the print media publishers; the measures imposed; the conducted researches; activities in the sphere of international cooperation, etc.
At the meeting, the Agency presented the publications it had published concerning gender issues in the TV programmes. The three compilations containing annual research results about the presence and depiction of genders in the programmes of the national television stations in the period 2012-2016 are published in Macedonian, Albanian and English, respectively. They include the results of five researches and a meta-analysis indicating the trends concerning gender and the media. Launched at the event was also the publication dedicated to gender in the television programmes in 2017, which consists of two analyses, one of which shows if, to what extent and in what way the gender-related issues are present on TV, while the other presents the way in which gender are depicted and portrayed in the TV programmes. This publication was also printed in Macedonian, Albanian and English.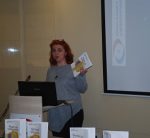 The attendees at the Meeting had an opportunity to hear about the findings of the research into audiences' opinion about the radio and television programmes in the Republic of Macedonia, which was conducted in the period November-December 2017. The research yielded data about the audience standpoints regarding the quality of certain contents of the programming services of the domestic television and radio stations, the degree of content with the programme offer, the way in which the audience used media, and the programming contents with the largest viewership/listenership. The research also provided data about youth's participation in and depiction by the media, as well as the representation of persons with different sexual orientation.
The presentations held at the Public Meeting are available at the links given below:
Activities conducted in line with the Agency's Annual Work Programme
Zoran Trajchevski, Ph.D., Director of the AAAVMS
 Gender Issues and Media: Ownership, Decision-Making and Reporting (2012-2016) 
Emilija Petrovska-Kamenjarova, AAAVMS
Marina Trajkova, AAAVMS
Audience Opinion Survey concerning the Radio and Television Programmes in the Republic of Macedonia 
Nadezda Pop Kostova, TARGET Communications
---
The agenda of the First Public Meeting of the Agency for Audio and Audiovisual Media Services in 2018 can be downloaded here
The Registration Form for participation in the First Public Meeting of the Agency for Audio and Audiovisual Media Services in 2018 can be downloaded here