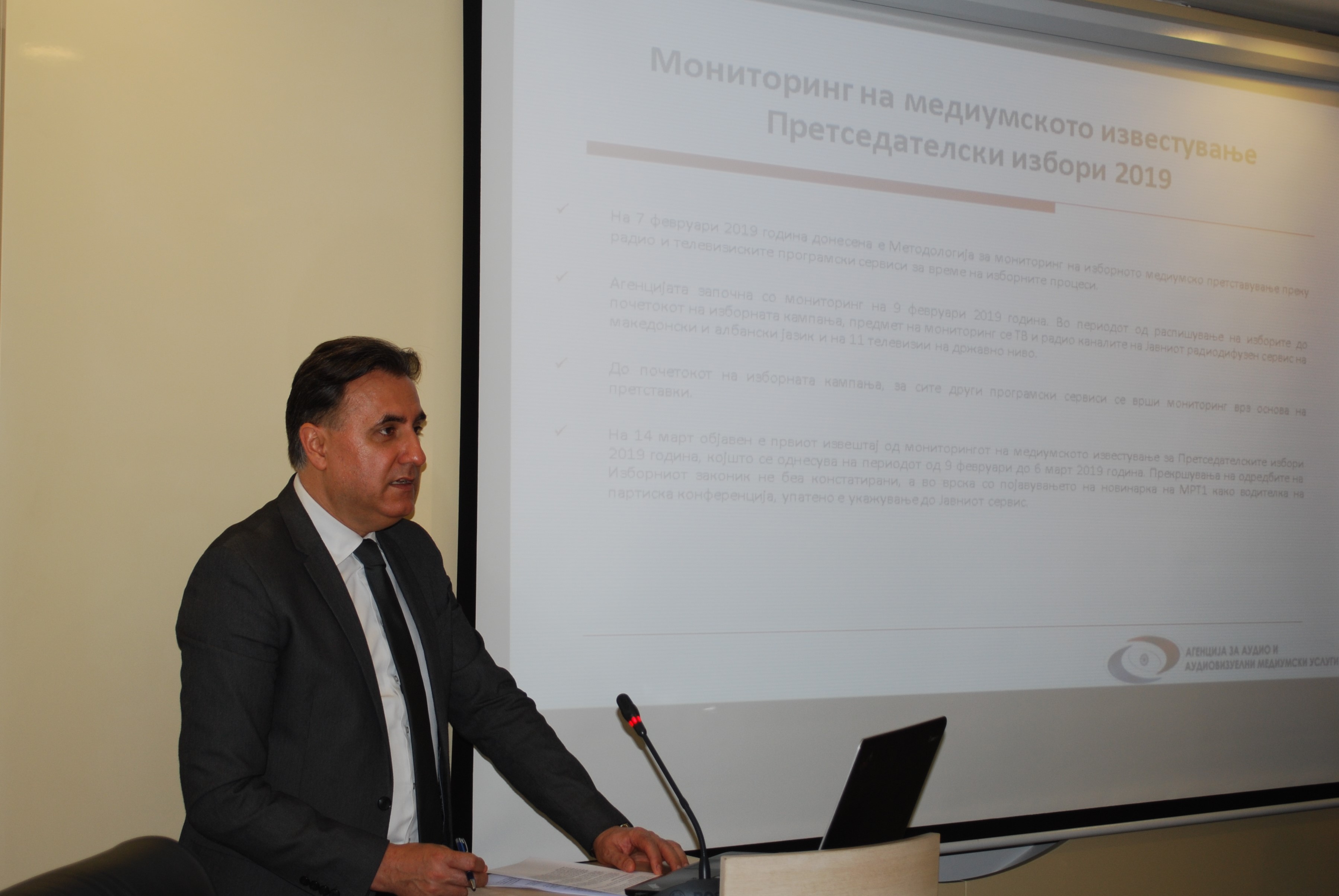 Skopje, 29 March 2019 – Today, the Agency for Audio and Audiovisual Media Services held its First Public Meeting in 2019. At the meeting, Agency Director Zoran Trajcevski presented the activities conducted during the previous quarter, in accordance with the Agency's Annual Work Programme, which involved the supervisions carried out over broadcasters, print media publishers an operators of public electronic communications networks, the monitoring of media coverage of the presidential elections, the public warnings pronounced and the activities in the international sphere.
In anticipation of the 2019 presidential election campaign and the local elections in the municipalities of Debar, Novo Selo and Ohrid, the Agency reminded the broadcasters of the rules regarding electoral media coverage, emphasizing in particular the implementation of the provisions for paid political advertising (PPP).
Regarding the manner of allocation of the airtime for paid political advertising, during the election campaigns in 2019, broadcasters may allocate a total of 9 minutes per real hour of programme, both in the first and the second rounds of voting. This distribution of airtime applies to the broadcasters that air programme at the national level and the broadcasters at the regional and local levels that air their programmes in the municipalities where mayors will be elected, as well as to broadcasters that will be airing paid political advertising only for the mayoral candidates. The broadcasters who will broadcast PPA only for the presidential elections, both in the first and the second rounds, may set aside a total of 8 minutes per real hour of programme. The merging of paid political advertising in two consecutive real hours may not be done twice in a row for the same presidential candidate or for the same submitter of lists of mayoral candidates.
The distribution of airtime for free political representation on the Parliamentary Channel should be implemented during each round of voting for both the presidential and the mayoral candidates, i.e. a total of 3 hours of free political representation for the presidential candidates, and a total of 1 hour for the mayoral candidates, distributed equitably among the candidates.
During this period, the broadcasters that decided to cover the election process should respect the obligation to report in a fair, balanced and impartial manner throughout their entire programmes, and provide level playing field for all participants in the campaign to all forms of electoral media presentation.
The Agency shall actively monitor the broadcasters' coverage just as it did during all previous election cycles, and shall publish all monitoring reports on the broadcasters on its website under the special banner titled Elections 2019.
The presentations held at the Public Meeting are available at the following links:
Activities carried out in accordance with the Annual Work Programme of the AAAVMS
Rules for Electoral Media Coverage, 2019 Presidential elections
Viktor Shikov, M.A., Division for Programme and Administrative Supervision
Implementation of the Provisions for Paid Political Advertising
Viktor Stoyanov, M.A., Human Rights and Media Literacy Division
The views and opinions obtained, as well as the position of the Agency for Audio and Audiovisual Media Services regarding the First Public Meeting in 2019, can be downloaded at this link