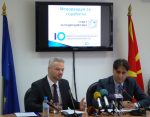 Skopje, July 04, 2012 – The Broadcasting Council (BC) and the Faculty for Computer Science and Engineering (FINKI) of the University St. Cyril and Methodius, signed a Memorandum of Understanding, whose aim is to promote the cooperation between this two institutions, especially in the area of introducing the digital television after the switch-off of the analogue transmission of the television contents, scheduled for mid 2013.
"15% from the population in RM follows the TV programme via analogue antennas, so there is an option when the analogue transmission will be switched-off next year, this part from the population to be excluded from the systems for public informing. This is the reason, why next autumn the BC will start a public educational campaign, aimed to inform the public about the introduction of the digital television"- said the president of the BC, M.Sc. Zoran Trajcevski.
The FINKI Dean, Prof. Dimitar Trajanov, addressed the technical criteria on which the consumers should pay attention when buying a new TV set, so it is compatible with the Macedonian digital networks: "One must pay attention to the fact that the TV sets should meet the DVB-T standard for reception of digital television with MPEG-4 compression, otherwise they won't be able to reproduce the TV content. As regards the older TV sets, digital receivers or set-top-boxes will be needed, whose price is around 10 US Dollars and are used for conversion of the digital signal in analogue, so the older TV sets could also be used after the analogue switch-off."
The newest BC research showed that 57,4% from the population are connected to cable TV networks, 15% use analogue antennas, 11,4% receive the TV content via satellite, 8,8 % via  IPTV networks and 6,9% use digital reception via the existing PayTV commercial digital networks.
Only that part from the population (15%), which uses analogue antennas, will be directly influenced by the analogue switch-off, while the others will not be obliged to purchase new digital TV sets or digital receivers.
The presentation on DTT from the press conference is available here (in .pdf format).